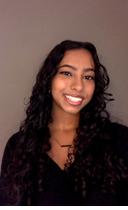 Jade Branker, 2021 CAWIC Bursary Recipient
Jade is in her second year in Ryerson University's Architectural Science program, on the Dean's list. After completing her undergrad, her long-term goal is to achieve her master's degree in architecture and attain licensure.
A desire to create and design has always been instinctive to Jade in every endeavour, and after realizing her admiration of the culture and identity in the beautiful buildings around her, architecture was an innate path of study. Inspired by the current state of our built world, Jade developed an interest in how much of our architecture overlooks human's true needs. In working towards a future in the AEC industry, she is passionate about creating sustainable architecture that can truly serve our health and wellbeing.
While continuing her education she enjoys getting involved in student unions, empowering and advocating for the needs of future participants in the industry.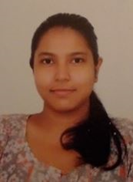 Imandra Mudalige, 2021 CAWIC Bursary Recipient
Imandra's passion for sustainable building design and green construction led her to the Civil Engineering Technology program at George Brown College where she is currently in her second year.
This past summer she got the opportunity to work with the City of Mississauga as a technical services student in their transport division. While maintaining a 4.0 GPA in school she enjoys volunteering with the organizations which support causes she is passionate about. In the past she has volunteered with LEAF as a Young Urban Forest Leader and was part of Toronto and Region Conservation Authority's Newcomer Youth Green Economy Project.
Currently she is volunteering as a climate action catalyst in a project conducted for Region of Peel through YCI. She also enjoys reading fantasy and exploring parks and urban forests in and around Toronto.
.

Emily Shibata, 2021 CAWIC Bursary Recipient
Driven by the prospect of making sustainable change in the construction industry, Emily is pursuing a Bachelor of Applied Science in the Department of Civil Engineering at the University of British Columbia. Her work with McElhanney's Traffic and Road Safety Division has fostered a particular interest in transportation and road building. Her goal is to develop innovative construction solutions to keep the world moving while ensuring the Earth thrives for generations to come.
While volunteering at the BC Cancer Research Centre throughout high school, Emily was inspired by an engineering co-op student to strengthen her ambitions in STEM. She hopes to also inspire younger students and set an example of how underrepresented groups can thrive in civil engineering.
In her spare time, Emily enjoys hiking local mountains and exploring Vancouver's food scene with her friends and family.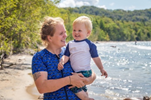 Helen Doucher, 2021 CAWIC Trade Bursary Recipient
Helen has taken many different education and career paths before going to Niagara College to attend their Carpentry and Renovations co-op program. She started school when her son was 8 months old and has really enjoyed learning a whole new way to view the world.
Helen considers herself an amateur artist, and someone who likes to create. Learning about construction and woodworking has opened a whole new avenue of creativity. She is doing her co-op placement with Great Choice Contracting and is honing her skills converting houses into multiple unit homes. She really enjoys working with a small team and is looking forward to continuing to learn and build.
Helen is hopeful that young girls who see her on the construction site are inspired to open their minds to careers that they may otherwise not have given a fair consideration.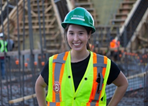 Stephanie DeFilippis, 2021 CAWIC Founders Bursary
Stephanie is a second year Construction Engineering student at George Brown College, with a Bachelors degree from Western University.
She is currently working for a real estate developer based in Toronto as a Student Site Administrator. This opportunity has provided her with valuable experience and a deeper understanding of how the construction industry operates.
As a student at GBC, she is also the President of the Construction Student Network, and the student representative for her program. Stephanie is interested in high-rise residential construction, and her career goals include working on site in the capacity of a Site Superintendent, then using that knowledge to later become a highly effective project manager.
She's extremely honoured to have received such a generous and symbolic award from CAWIC. The financial assistance that this award provides her with will be of great help to paying her educational expenses and will allow her to concentrate more time on studying. Stephanie is looking forward to attending and participating in future CAWIC events and becoming a part of the community.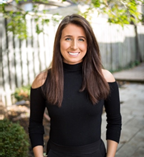 Jessica Colbridge, 2021 CAWIC Bursary Recipient
Jessica is a third year student in the Construction Engineering Technology program at Fanshawe College. She developed a love for architecture at a young age and would often spend much of her spare time either sketching floor plans or exploring new subdivisions to see the houses being built.
Through school and work, she has gained valuable experience estimating, coordinating, and supervising. Jessica plans to pursue a career in project management after graduation. 
Jessica is passionate about empowering young women. She has volunteered with a youth agency since 2017, running a program focused on self-esteem and positivity. Jessica plans to broaden her volunteering experience and begin educating youth on the many opportunities available in the construction industry.