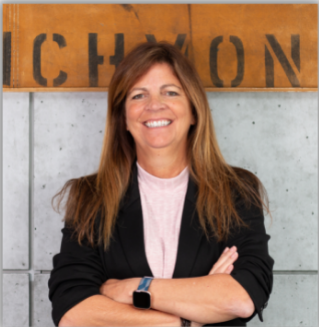 Director of Industry Relations
Lisa Laronde
Powell Group of Companies, President of the Road Safety Division
Lisa Laronde (she/her/hers) is the current and first female President of the Road Safety Group for the Powell Group of Companies overseeing their North American operations. Both the Canadian and U.S. operations offer an all-inclusive supply, installation and emergency response service for the road and highway construction industry, for private, public and P3 customers. Powell Contracting is a Canadian leader in the Road and Highway Construction Industry.
Her leadership style embraces the benefits of diversity, inclusivity, and knowledge sharing. Lisa is a strong advocate for under-represented groups in the construction industry and she continues to elevate efforts to promote diversity within the industry and to attract a talent base from all walks of life. Lisa believes the foundation for success stem from knowing the importance of nurturing and promoting different views, different mindsets, and different skill sets. Lisa believes that diversity is our greatest strength, and that the construction industry is beginning to welcome this change. She is excited and proud to be a leader in the construction industry during such an evolutionary period of growth.
Lisa was elected to the CAWIC Board of Directors for the 2021-2022 year and served as Director, Chapters Committee. She is also a member, volunteer, and participant for; George Brown College's Women in Construction, Toronto Construction Association (TCA), Ontario Road Builders Association (ORBA), and Shelter Movers; a not-for profit organization that provides moving and storage services at no cost to women and children fleeing abuse.
The Chapter's Committee was developed in 2021-2022 with a vision to be recognized as a National Association and host a National Conference. She has seen the growth of CAWIC over the last few years and is excited to be part of an association that mission is to facilitate the success of women in the Canadian Construction industry. We have a voice let us unite and let's be heard.
Contact: [email protected]